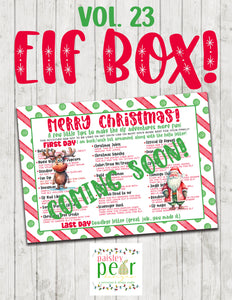 Vol. 23 Elf Box - All the Elf Fun!!
Vol. 23 ELF BOX
This box is perfect if it is your THIRD year ordering! 
All items come packaged together in a box! Sticker included with instructions!
20 items to use for whatever days work best for your family!!
PLUS Personalized Hello Letter, Personalized Goodbye Letter, I am back sign and Personalized notecards to use for lunch box cards, trip announcements, breakfast fun or just a little hello to say you've been naughty!!
PLEASE READ ABOUT ORDERING OPTIONS

The Elf Box for $55.00 includes all: 
Hello Letter -- Goodbye Letter -- 4 notecards --I'm Back sign -- Elf Report Card
COMING SOON

IF YOU ORDER FOR 2-3-4 KIDS -- YOU WILL GET 1 EXTRA ITEMS PER KID: 
IF YOU HAVE MORE THAN ONE ELF AND WANT EXTRA PERSONALIZED CARDS PLEASE PURCHASE THE EXTRA CARD OPTION.
IN THE NOTES PLEASE MENTION: ELF NAME!
All this ELF fun is ready for a month long adventure!!!